Ian de Souza
Upcoming Events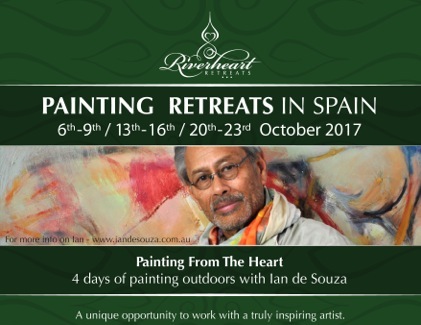 www.riverheartretreats.com/freedom | www.riverheartretreats.com/about-riverheart-retreats
RIVERHEART RETREATS Spain is now taking expressions of interest for
our three long-weekend painting retreats this October. Join renowned
Australian artist Ian de Souza in the hills of Andalucía in southern
Spain for drawing, painting, writing, and meditation. Dates commence 6th,
13th and 20th October 2017.
With personal tuition from Ian, painting in small groups in the outdoors each weekend surrounded by stunning scenery, promises to be a creative feast. Perfect for beginners and the more experienced practitioners wanting to refine their skills.
Between sessions we offer yoga, meditation and massages. Our chefs will prepare an abundance of delicious locally grown vegetarian food served with organic juices and wine. In your spare time – read, enjoy the pool, a walk by the river or explore the neighbouring historical town of Coin
Your booking includes the accommodation ranging from self-contained wooden cabanas to "glamping" in bell tents and teepees, and prices scale from 1200 EUR to 400 - EUR, dependant on the lodging you choose. All workshops, materials, food and drink are covered in the long-weekend tariff; the ONLY things you need to provide are your flights and travel insurance! Massages are not included in the tariff but can be reserved at the time of booking.
For those of you wanting to stay a little longer, we offer packages to extend on a self-catering basis, with the possibility to join Ian's second and third weekend retreats - just enquire with details of what would make your perfect retreat.
TO REGISTER or to seek clarification: Please reply to samantha@riverheartretreats.com Bookings are now open and we look forward to hearing from you soon!
More info on Ian's retreats can be found here - http://www.riverheartretreats.com/painting-from-the-heart
More info on accommodation options and prices for Ian's October retreats can be found here - http://www.riverheartretreats.com/pricing-and-schedule
If any further inspiration is needed, here are some words from creative pioneer Brenda Ueland -
'Why should we all use our creative power? Because there is nothing that makes people so generous, joyful, lively, bold and compassionate, so indifferent to fighting and the accumulation of objects and money.'
Come and enjoy! With love and light,
Samm
Samm Short
Riverheart Creator
+34 671 465 611
www.instagram.com/riverheartretreats
www.facebook.com/RiverheartRetreats
www.twitter.com/SammRiverheart
BEST FRIENDS
ink on rice paper
30 x 50cm

ARTIST Ian de Souza in his Fremantle studio
Painting montage of images from William Forsyth's stunning choreography ONE FLAT THING REPRODUCED

Collioure France
ink on rice paper
30 x 50cm

Les Bicyclettes
watercolour on paper
30cm x 50cm

Ian de Souza

Ian de Souza - with student painting en plein air